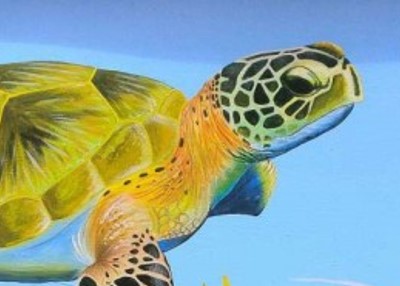 The Department of Marine Resources has embarked on a number of projects to raise the level of awareness for Kittitians and Nevisians of marine life and the importance of the sustainable use of marine resources for 2016.  The marine inspired dumpster project is one of the marquee projects that is expected to visually stimulate the populace.
The Department commissioned Nevisian artist Mr Vaughn Anslyn to conceptualize and execute the project.  The results are as follows: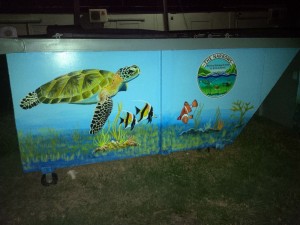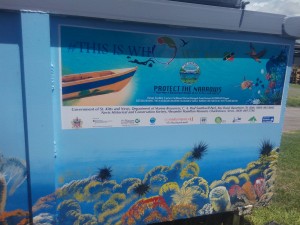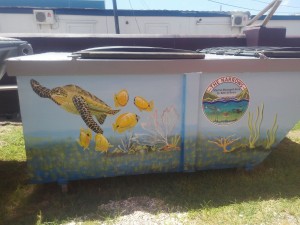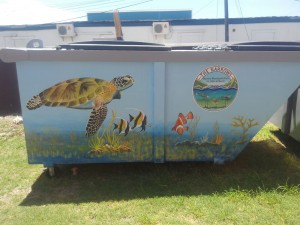 The murals feature various types of marine life that can be found in the proposed Narrows Marine Management Area including; Hawksbill Sea turtle, Angel fish, sea grass bed, corals, sea sponges and a sea fan.  The mural project was funded by CamPAM Small Grants with the Department of Marine Resources as the National Implementing Entity (NIE).  CamPAM seeks to support to the management of marine space within the region. Establishing Marine Management Areas (MMA) or Marine Protected Areas (MPA) is used as a regional tool to improve marine management, conserve marine biodiversity, address over fishing impacts, decrease user conflicts, and provide economic alternatives to local coastal communities. This has resulted in substantial knowledge gained on optimal site selection and design, successful outreach approaches, effective management strategies, and appropriate methods to evaluate their effectiveness.  The Department of Marine Resources is presently embarking on establishing a two-mile radius St.Kitts and Nevis MMA .
The marine-inspired dumpsters will be placed at various fish landing sites throughout St. Kitts and Nevis.
https://dmrskn.com/wp-content/uploads/2016/07/Turtle1.jpg
286
400
newsadmin
https://dmrskn.com/wp-content/uploads/2015/12/Logo-Jpg.jpg
newsadmin
2016-07-11 12:28:23
2016-09-29 13:30:11
Creative Murals promote Awareness