The first meeting of the Regional Working Group on Illegal, Unreported and Unregulated Fishing (RWG IUU) was held in Barbados from March 1-2, 2017.
The evolution of the RWG IUU into a tripartite group started at the 15th Food Agriculture Organization (FAO) Western Central Atlantic Fishing Commission (WECAFC) meeting which was determined to include Caribbean Regional Fisheries Mechanism (CRFM) and Central America Fisheries and Aquaculture Organisation (OSPECA). The overall aim of the RWG IUU is to enhance the regional governance for sustainable fisheries and is supported by the United Nation Development Programme/ Global Environmental Fund (UNDP/GEF) Caribbean Large Marine Ecosystem (CLME+) project and FAO.
The meeting objectives included increasing awareness and understanding of IUU fishing problems and to identify possible solutions, build capacity for more effective collaboration in preventing and deterring IUU fishing, and  discuss the draft document that would indicate how the RWG IUU would operate and function as well as to develop work plans.
Belize and St.Kitts and Nevis were among several territories making presentations on how to address IUU fishing in their waters. The presentation for St.Kitts and Nevis was conducted by Wilmot Alleyne (Fisheries Enforcement Officer). He focused on the Fisheries, Aquaculture and Marine Resources Act 2016 (FAMRA) and all the relevant parts which speak to IUU within the Federations' waters. Mr Alleyne also indicated that he also referred to the National Plan of Action on IUU Fishing during his presentation. "Based on FAMRA all of the international instruments that St.Kitts and Nevis are party to has the force of law" said Mr Alleyne.
Subsequent RWG IUU meetings will occur in May and October of this year to complete objectives as outlined in the work plan.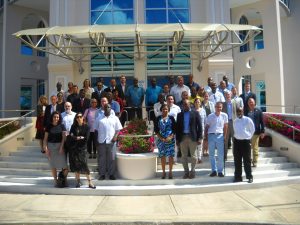 RWG IUU Group photo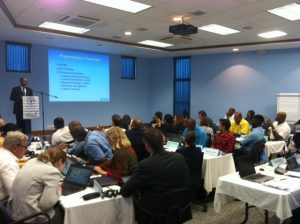 RWG IUU in session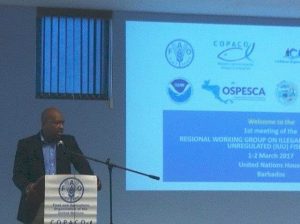 Hon. Saboto Caesar , St. Vincent and the Grenadines Minister responsible for Fisheries giving  the featured address
https://dmrskn.com/wp-content/uploads/2017/03/IUU-Workshop-Group-Photo-2017.jpg
1944
2592
newsadmin
https://dmrskn.com/wp-content/uploads/2015/12/Logo-Jpg.jpg
newsadmin
2017-03-07 12:21:03
2017-03-07 12:21:03
1st Meeting of the Regional Working Group on Illegal, Unreported and Unregulated Fishing (RWG IUU)