On Saturday 10th February, 2018, Nine Short-Finned Pilot Whales beached themselves on Dog Bay and at Garlin Bay at Indian Castle, Nevis.
There were mammoth efforts to save three of the nine whales and transport them to be released back into the ocean. Unfortunately one died while being transported. Therefore, two of the nine Pilot Whales were saved and released into the ocean.
Permanent Secretary Huey Sargeant-Ministry of Fisheries et al. in Nevis, Thema Ward – Physical Planning and Environment, Nevis and Lemuel Pemberton- Nevis Turtle Group were leading the efforts. They were then assisted by a delegation from St. Kitts namely Kharim Saddler-Fisheries Assistant (DMR), Sara Ramirez -St. Kitts Sea Turtle Monitoring Network, Paul Fyre and Kelsey Johnson – ROSS University School of Veterinary Medicine.
Necropsies were performed and samples taken in order to help determine a possible cause of beaching. Of the nine whales; 2 were females, 3 were males and the other sexes unknown. The average length of the whales were 3.6 meters or 11.8 feet.
The Department of Marine would like to extend gratitude to the Indian Castle/Gingerland and surrounding area community members, fishers, students, volunteers, researchers and Government entities such as the St. Kitts Nevis Coast Guard, Department of Agriculture St. Kitts, Physical Planning and Environment Nevis.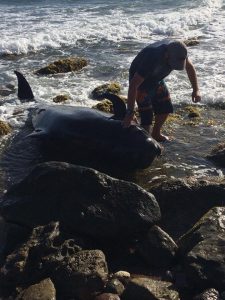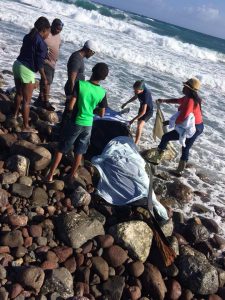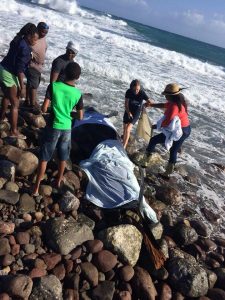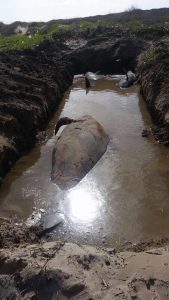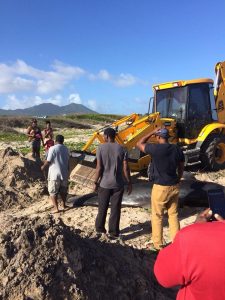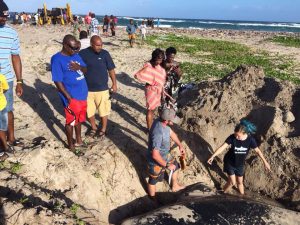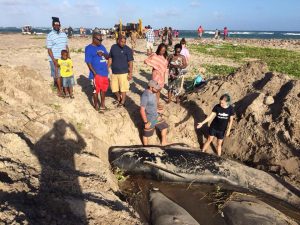 https://dmrskn.com/wp-content/uploads/2018/02/27750549_1695251217201749_406671279757453767_n.jpg
720
960
newsadmin
https://dmrskn.com/wp-content/uploads/2015/12/Logo-Jpg.jpg
newsadmin
2018-02-13 15:35:55
2018-02-14 14:45:23
Whales Beached in Nevis