The Global Environment Facility (GEF) sponsored Conserving Biodiversity Project in St. Kitts and Nevis hosted in collaboration with the Department of Environment, St. Kitts the Protected Areas & Conservation Management Training from April 16-25, 2018.
Marine Conservation Officers; Locksley Edwards, Ahisha Herbert and Ashadi Duncan, Beach Conservation Officers; Luciano Eddy and Sasha (Kodi) Edwards, and Boat Captain and Conservation Officer; Conse Skeete participated in this training. These individuals are stationed at the Department of Marine Resources (DMR).
Facilitation of the training was done by Global Parks representatives; Kathy Chopik, Brion Fitzgerald and Doug Konkin. Local experts including; Thema Ward- Department of Physical Planning and Environment, Diannille Taylor-Williams- Ministry of Tourism and Dr. Kimberly Stewart- St. Kitts Sea Turtle Monitoring Network presented at this training.
This training had three deliverables:
Interview staff to determine current skills and knowledge, goals for future training (capacity needs assessment)
Based on the interviews and previous work, prepare and deliver a dedicated training program
Create a capacity development plan for the overall effective management of the PA's and conservation areas.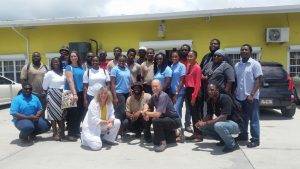 Protected Areas, Conservation, Management and staff capacity needs assessment activities included a wide range of priority training areas that were covered:
Protected areas planning processes and tools
Business and financial planning
Conservation and management of biodiversity and ecosystem
UN conservation commitments
Ecological monitoring and data collection
Use of decision-making support tools and database management tools
Synergies between ecotourism development and protected areas management
Building partnerships and network
EIA reports review
Some of the challenges that were recognized and assessed were
Lack of public communication of the work of the Park Rangers
The need for effective communication with the public
Lack of equipment necessary to complete the jobs/tasks effectively
Effective organizational communications
Lack of training opportunities
Lack of enforcement to support daily job completion
The training outcome was prioritization exercises of the training needs linking to the performance expectations in the job description and department mandates.
https://dmrskn.com/wp-content/uploads/2018/06/IMG-20180607-WA0005-e1528380880315.jpg
509
1094
newsadmin
https://dmrskn.com/wp-content/uploads/2015/12/Logo-Jpg.jpg
newsadmin
2018-06-07 10:17:44
2018-06-07 10:17:44
Protected Areas & Conservation Management Training