St. Kitts and Nevis was represented at the IUCN (International Union for Conservation of Nature) and Joint Research Center of the European Commission,  BIOPAMA (Biodiversity and Protected Areas Management) and University of the West Indies hosted Caribbean Regional Inception Meeting from 6th -7th March 2018 in New Kingston, Jamaica. Tricia Greaux – Marine Management Area and Habitat Monitoring Officer with responsibility for the St. Kitts and Nevis Marine Management Area (SKN MMA) was the representative.
This meeting is essentially introducing the Phase II aspect of the BIOPAMA Programme seeking to reinforce marine and terrestrial protected a  reas within the ACP (African, Caribbean and Pacific) countries. Mrs. Hyacinth Armstrong-Vaughn -Protected Areas Officer in the BIOPAMA Programme during welcome remarks and Phase II overview indicated the focus is on conserving and sustainably using the biodiversity within the Caribbean region and included goals such as promoting agility throughout international and regional networks and data collection mechanisms. This Programme will also seek to create greater alignment with Government Officials, Researchers, Managers and Conservationist through protection of biodiversity since t
he natural ecosystem should not threaten the economic development of our nations. Mr. Edmund Jackson, Programme Officer Environment and Climate Change Officer , Secretariat of the ACP expressed that implementation should reflect ownership, sharing of lessons learnt and encourage appropriate reporting.
During the 2 day meeting, highlights of different perspectives from national and regional conservation and management priorities and evaluating the approaches for improving governance and management at multiple scales were discussed. Other major meeting topics included the Caribbean Protected Areas Gateway, Regional Data Management Initiatives, and Data Sharing and Reporting.
The Biodiversity and Protected Areas Management (BIOPAMA) Programme assists the African, Caribbean and Pacific countries to address their priorities for improved management and governance of biodiversity and natural resources.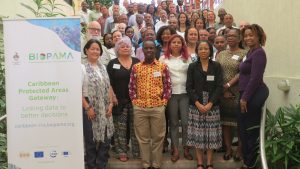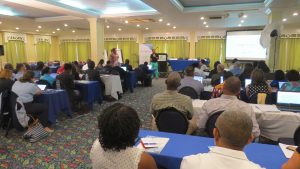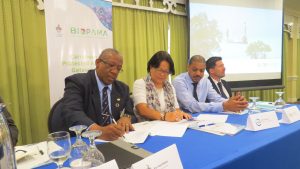 https://dmrskn.com/wp-content/uploads/2018/03/IMG_3733.jpg
2248
4000
newsadmin
https://dmrskn.com/wp-content/uploads/2015/12/Logo-Jpg.jpg
newsadmin
2018-03-06 16:12:18
2018-03-07 11:52:39
BIOPAMA Phase II Programme - Caribbean Regional Inception Meeting