Designing For the Xtraordinary (DFX) Mas Band has donated marine inspired costumes to the Department of Marine Resources (DMR) to boost the aesthetics of the department's marine environment based awareness efforts. The DMR has partnered with the Anjolique Dance Company to implement a project "SEE LIFE SEA SKN"- a national level visual campaign about the marine environment. This project is primarily funded by the Global Environmental Fund United Nations Development Program Small Grant Proposal.
DFX released their carnival parade troupe "Beauty Everywhere" for Sugar Mas 45 held December 2016-January 2017, highlighting the various aspects of the marine environment. The intimidating section named "Ravage" showcased the Lionfish as an invasive predatory fish species within the Caribbean Sea. The allure of the sea splashing on our beaches below the enchanting Caribbean nights sky was displayed in the royal blue and black section "Seduction".
Later in July 2017, DFX allowed the DMR to use male and female costumes from the Ravage and Seduction section and also a magnificent Octopus costume from the mas camp. The DMR used these pieces in the Agriculture Open Day display.
The month of September highlights the official handing over of these costumes to the DMR. Marine Conservation Officers will form part of the SEE LIFE SEA SKN project's Marine Awareness Consortium (MAC). The MAC will serve as the marine environment education catalysts for primary, secondary and tertiary school visits.
DFX – Designing For the Xtraordinary Mas Band is an Entertainment & Design Company that strives to Design, Enhance and Create the Ultimate Experience and Best Service for all, through Music, Photography, Makeup Artistry and Costume Design! For more information contact Corrine Poujade-Flanders at Designing For the Xtraordinary (DFX) Mas Band dfxmasband@gmail.com and www.facebook.com/DFX.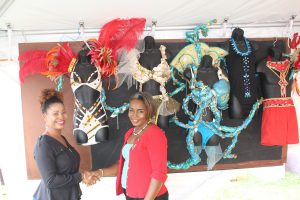 Tricia Greaux- MMA and Habitat Monitoring Officer, DMR and Corrine Poujade-Flanders – Designing For the Xtraordinary (DFX) Mas Band at the handing over ceremony.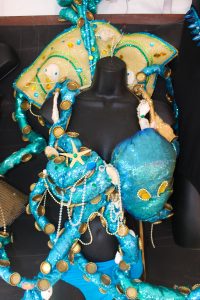 Octopus Costume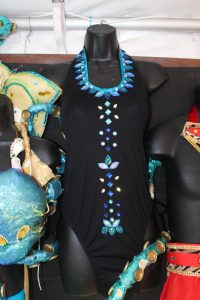 Seduction Costume
Sea Shell Costume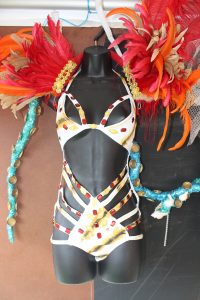 Ravage Costume
https://dmrskn.com/wp-content/uploads/2017/09/IMG_9632-2-e1505419711160.jpg
1845
1702
newsadmin
https://dmrskn.com/wp-content/uploads/2015/12/Logo-Jpg.jpg
newsadmin
2017-09-14 16:13:23
2017-09-14 16:13:23
DFX dives in with DMR